Ahresty Techno Service Corporation (The headquarters: Tokyo and President: Kaname Saeki) will begin to sell Die Cooling Equipment "Jet cool system M series (patent pending)".
[Feature of M-series]
・M-series is a new series developed by improving capacity of former Jet Cool System and realizing easy handling.
・Tere are 4 types of cooling capacities: for 20pcs, 40pcs, 60pcs and 100 pcs. of Jet Coolers.
・Touch-panel type operation circuit is employed for all the models.
・Maintenance is much easier than the former.
・Installation area is minimized and it can be installed in small space.
・Noise is drastically decreased for the better factory environment.

*ATTENTION: Power supply(AC200V, 3Φ) is required for this system.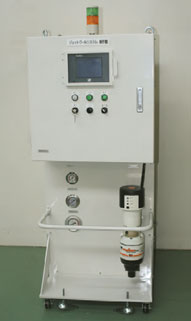 Drawing